Mads Westrup

Ballads

Exhibition: 30 June - 24 Sept, 2016

Mads Westrup, Ballads, Installation view, Lira Gallery, Rome, 2016

Mads Westrup, Ballads, Installation view, Lira Gallery, Rome, 2016

Mads Westrup, Ballads, Installation view, Lira Gallery, Rome, 2016

Mads Westrup, Ballads, Installation view, Lira Gallery, Rome, 2016

Mads Westrup, Ballads, Installation view, Lira Gallery, Rome, 2016

Mads Westrup, Ballads, Installation view, Lira Gallery, Rome, 2016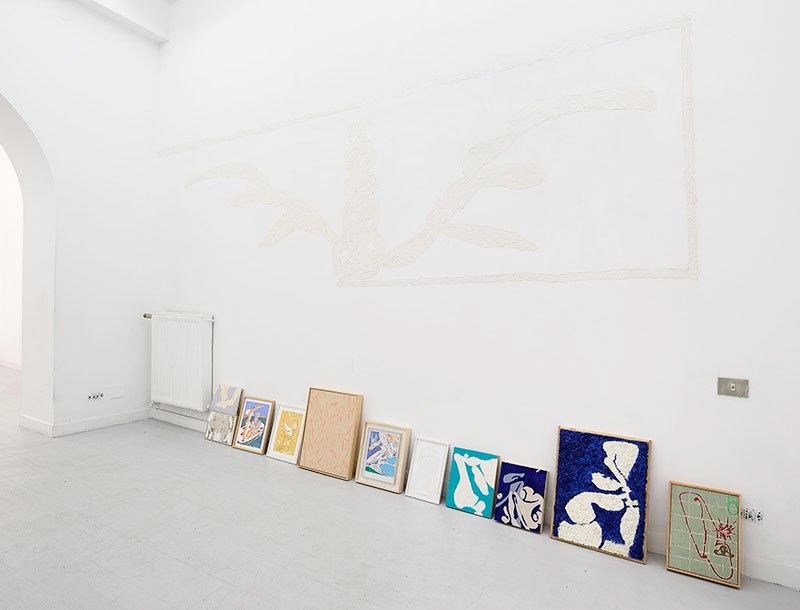 Mads Westrup, Ballads, Installation view, Lira Gallery, Rome, 2016

Mads Westrup, Sure I do. He'll be alright now. You can't get hurt sliding into a cloud, Pigments, glue and oil on canvas, 40 x 52 cm, 2013-2016

Mads Westrup, Outtake of house, where you can get good Japanese food 1, Oil on canvas, 35 x 25 cm, 2012

Mads Westrup, Float/Man with kite, Frame, wood plate, linoleum, screws, spartel, colors and medium, 43 x 32 cm, 2016

Mads Westrup, Untitled, Pigments and glue on canvas, 39 x 51 cm, 2013

Mads Westrup, Pan Pan Øresund - with Louise Drubigny, Silkscreen print on paper, 27 x 14 cm, 2016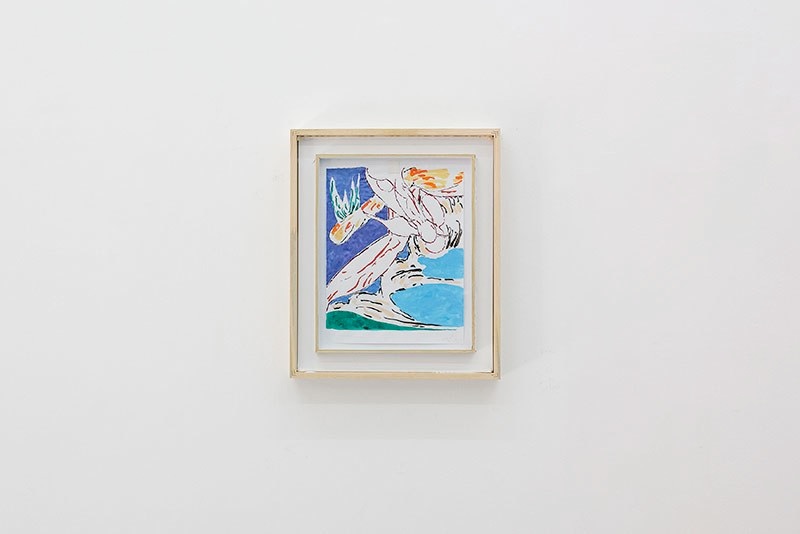 Mads Westrup, ballads, Artist frame, gouache and tape on paper, 30 x 24 cm, 2016

Mads Westrup, My inner divorce part - with Louise Drubigny, silkscreen print on paper, 30 x 22 cm, 2016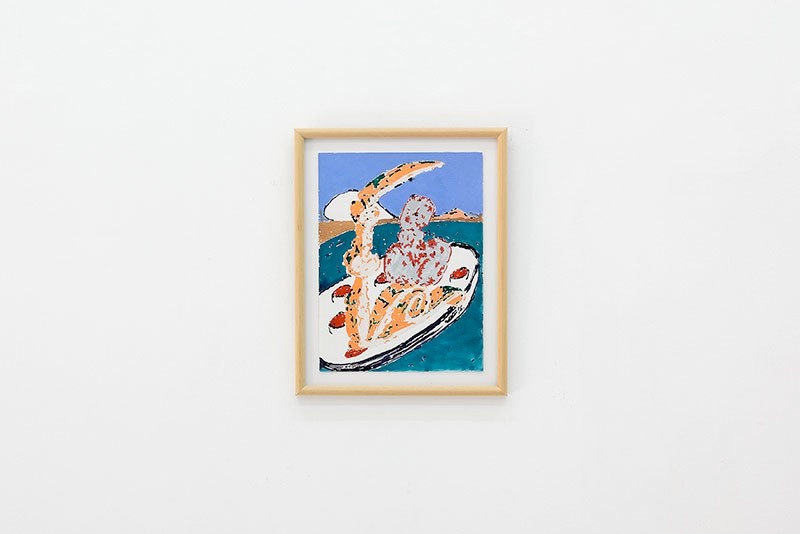 Mads Westrup, ballads, gouache and watercolor on paper, frame, 30 x 22 cm, 2013

Mads Westrup, Bigger than anything (b+c), Wood, linoleum, cardboard, spackle, wodden frame, printing plate, gesso and gouache, 63 x 27 cm, 2016

Some abstract (graphic) object-paintings and multilayered prints – a small note concerning the picturesque work of Mads Westrup

"He he he he and he and he and and he and he and he and and as and as he

and as he and he. He is and as he is, and as he is and he is, he is and as he

and he and as he is and he and he and and he and he."

Gertrude Stein, IF I TOLD HIM: A COMPLETED PORTRAIT OF PICASSO 1932

If painting: is painting, is painting, is painting – and paintings are painting, is it then still painting? Or has it become image-form? And thus (again) picture-making in general? Does it matter if paintings are (still) painting, or not, if it has turned into/back to being images? It's hard to say, but what should matter, is still the time 'in' the work. That is to say praxis, the labour, the choices and the grips being taken and used, or which is made in the 'proces' of dealing with the work – "grebene" and "måden at greje" as you put it in danish.

So I haven't actually seen the paintings, or are there also prints in this room which you, dear viewer, now are standing in? There should be a lot of visual joy! I've only seen pictures, digital pictures of pictures, and prints. But I have talked to Mads Westrup about it; his work and his work with it. Earlier when I've seen Westrups paintings, I've meant that they almost automatically put forward questions about these kind of problems: what an image is, and how it works on us.

But still the images or pictures and or pictures brough forth acts like paintings which might be a point, because what is this thing about images or pictures that act, is it something with time in it? And not just labour time, 'hours', but time understood as a form. Westrup's paintings seem fast to me, but he says that he's gone in a different directions. Can you trust a painter on his/her word? Could he/she ever know, before after? So in this case the painter says that this is after. Anyway, they still seem fast to me, even though there might be more labour time and more layers now, but I've only seen pictures. To me the work stands out as cartoonish, play- and cheerful, as silly and being charming – it seems fun and dead serious at the same time. Why this is, is not an interesting question here, while how might be.

When I asked him how he worked, his answer was related to what he did and he said: "abstract object-paintings". I now come to think of Philip Guston. I'm sorry but that's where we both start and end, in comparative memories, written history and references, unless theres something you'd like to ad Mads?

—

Jonas Georg Christensen, MFA in art theory and communication